Welcome to the Ross Elementary web page. As you walk our halls and listen in on the learning that takes place in our K–6 classrooms, you'll recognize that fun and learning go hand in hand at Ross. We are a tight-knit community of hard-working, hard-playing, success-oriented individuals who work together to bring about the academic and personal success of every student in our care.
A Message From the Principal
Dear Ross Elementary Families,
Welcome back! I'm so excited to start the 2021–2022 school year! We are going to have another very successful year with several different activities planned to make this year once again as normal as possible. I am excited to announce that we have some changes happening at Ross! Each classroom has been updated with a state-of-the-art OneScreen interactive board! Also, Mrs. Chopyak and Mrs. Miller are back to the Ross family! Finally, if you have any questions or concerns don't hesitate to reach out to me. Once again, get ready for another fantastic school year!
As always, remember that good people will do great things!
Take care and stay strong!
Mr. Matt Nonnenberg
Ross Elementary School
Principal
(570) 477-4300
Latest News
We are always up to something new. Visit this page often to see what's happening. You'll find upcoming events as well as the latest news about some of the great things going on at our school.
Fourth Quarter Honor Roll
Congratulations to the following students for making the honor roll for the fourth quarter. Way to go. We are proud of you!
Michael Badman
Lukas Conte
Madisyn Cox
Olivia Devens
Magnolia Grendzinski
Jenna Lehman
Haley Lukavitch
Aspen Marchakitus
Lucas Moyer
Briana Noto
Alexandra Patla
Jake Paull
Kinley Purdy
Erin Stockholm
Ethan Ungvarsky
Kenzie Williamson-Coleman
Michael Young Jr.
Top Accelerated Readers of 2022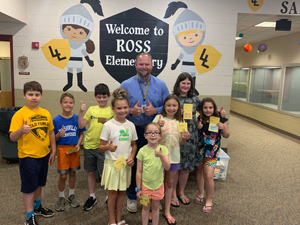 Congratulations to the following Ross Elementary students for being the top accelerated readers for the 2021–2022 school year. They are:
1st Grade: Evelyn Brink
2nd Grade: Collin Albee
3rd Grade: Kendall Allen
4th Grade: Sabrina Noto & Jake Janosky
5th Grade: Gianna Chopyak & Dalton Rambus
6th Grade: Madisyn Cox
Great job representing mastery in the classroom!
2021–2022 Most Improved Students
Congratulations to for being selected as this year's most improved students! Excellent job, and thanks for all your hard work! We are very proud of you!
Superhero Day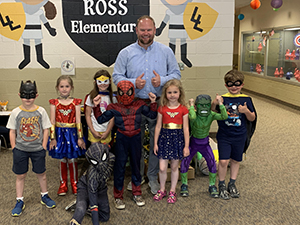 Ross Elementary School students participated in superhero day on Wednesday, June 1. A fun time was had by all!
Mrs. Everett's Counseling Corner
In our May/June guidance lessons, we will be focusing on closing out our school year and celebrating all we have accomplished! Also, all students will have the opportunity to have another optional lunch bunch visit in Mrs. Everett's office.
This and That
The sixth grade kicked off their Virtual Career Fair with Mary from the Waikiki Aquarium in Honolulu, Hawaii. She told us about her job as a marine biologist and showed us the exhibits at the aquarium! 
Kindergarten students worked hard, made beautiful bonnets at home, and brought them in to share.
Movie night was a huge success with kindergarten through third and fourth through sixth grades each enjoying separate movies with hotdogs and popcorn provided by PTO.
Second-grade students learned how to fill buckets with Timothy from GWVCC.
Ross Elementary Important Dates
May 2 through May 6 - Teacher/Staff Appreciation Week
May 3 and May 4 - Math PSSA (Grades 3,4,5,6)
May 4 - PTO Meeting at 6:30 p.m. (In Person)
May 10 and May 11 - Science PSSA (Grade 4)
May 12 - Kindergarten Field Trip
May 13 - Act 80 Early Dismissal at 1:00 p.m.
May 16 - School Board Meeting
May 17 and May 18 - PTO Book Fair
May 20 - 5th and 6th Grade Dance
May 25 - Field Day
May 26 - 1st and 2nd Grade Field Trip
May 26 and May 27 - Hall of Presidents
May 27 - Early Dismissal at 1:00 p.m.
May 30 - Holiday Recess (No School)
June 1 - 3rd Grade Field Trip
June 2 - 4th and 6th Grade Field Trip
June 3 - PTO Ice Cream Truck Visits
June 6 - 5th Grade Field Trip
June 7 - 6th Grade Awards Ceremony 10:00 a.m.; 6th Grade Picnic (Afternoon)
June 10 - Last Day of School!