Welcome to the Ross Elementary web page. As you walk our halls and listen in on the learning that takes place in our K–6 classrooms, you'll recognize that fun and learning go hand in hand at Ross. We are a tight-knit community of hard-working, hard-playing, success-oriented individuals who work together to bring about the academic and personal success of every student in our care.
A Message From the Principal
Dear Ross Elementary Families,
Welcome back! I'm so excited to start the 2022–2023 school year! We are going to have another very successful year with several different activities planned to make this year once again a great one! I am excited to announce that classrooms are currently being prepared, and I'm most looking forward to meeting our new incoming kindergarten class. The kindergarten and new student orientation is set for August 30. Finally, if you have any questions or concerns, don't hesitate to reach out to me. Once again, get ready for another fantastic school year!
As always, remember that good people will do great things!
Take care, and stay strong!
Mr. Matt Nonnenberg
Ross Elementary School
Principal
(570) 477-4300
Latest News
We are always up to something new. Visit this page often to see what's happening. You'll find upcoming events as well as the latest news about some of the great things going on at our school.
January 2023 Principal Shout Outs
December 2022 Principal Shout Outs
Crazy Hat Day
Ross Elementary School students participated in crazy hat day on Tuesday, January 24. It was such fun seeing all of the crazy hats!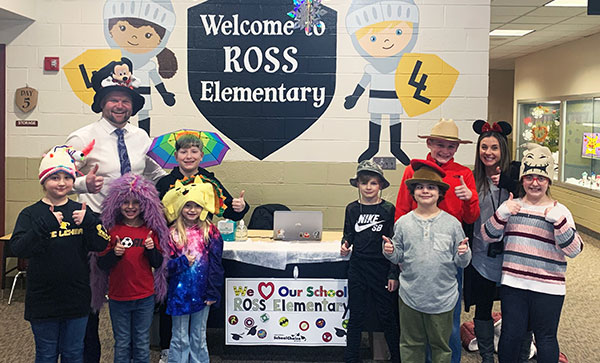 Book Fair
The PTO book fair is on Tuesday, January 31 through Thursday, February 2. Students will have the opportunity to shop and purchase books during school hours. Watch for more information coming home soon.