Welcome to the Ross Elementary web page. As you walk our halls and listen in on the learning that takes place in our K–6 classrooms, you'll recognize that fun and learning go hand in hand at Ross. We are a tight-knit community of hard-working, hard-playing, success-oriented individuals who work together to bring about the academic and personal success of every student in our care.
A Message From the Principal
Dear Ross Elementary Families,
Welcome back! I'm so excited to start the 2022–2023 school year! We are going to have another very successful year with several different activities planned to make this year once again a great one! I am excited to announce that classrooms are currently being prepared, and I'm most looking forward to meeting our new incoming kindergarten class. The kindergarten and new student orientation is set for August 30. Finally, if you have any questions or concerns, don't hesitate to reach out to me. Once again, get ready for another fantastic school year!
As always, remember that good people will do great things!
Take care, and stay strong!
Mr. Matt Nonnenberg
Ross Elementary School
Principal
(570) 477-4300
Latest News
We are always up to something new. Visit this page often to see what's happening. You'll find upcoming events as well as the latest news about some of the great things going on at our school.
2022–2023 Most Improved Students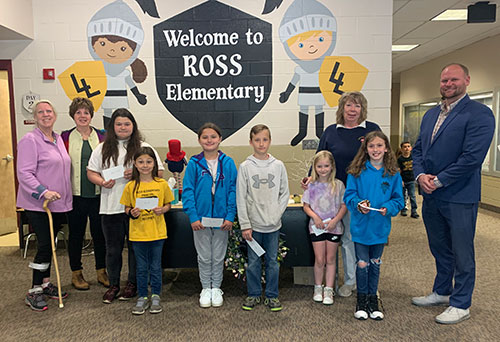 Congratulations to the following students for being named most improved students for the 2022–2023 school year by the Harvey's Lake Women's Club!
1st Grade: Helen Lee
2nd Grade: Lettie McBride
3rd Grade: Atley Depot
4th Grade: Mia Texeira
5th Grade: Mason Kottler
6th Grade: Breanna Hunter
Congratulations! Excellent job, and keep up the amazing work!
Lake-Lehman Elementary Wrestling - 2023 Penn League B Division Champions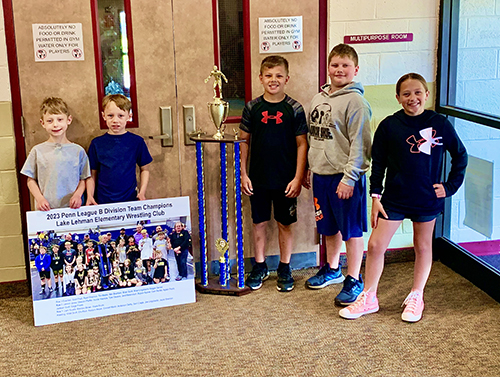 Congratulations to Lennon Jones, Tyler Devens, Ella Paull, Emmett Martin, and Anderson Derby for an excellent job completing at this year's Penn League. They were named B-Division champions! Job well done!
6th Grade Awards Ceremony
The 6th grade awards ceremony will take place on Tuesday, June 6 at 10:00 a.m. in the Ross Elementary gym. Each 6th grade student may invite four guests to attend the ceremony. We will recognize our 6th grade students for their many outstanding achievements, growth, and progress during their time at Ross Elementary. Please look for more information coming home soon.
Last Day of School
Our last day of school is on Friday, June 9. Have a safe and enjoyable summer!